Henry Buckingham Sutler Note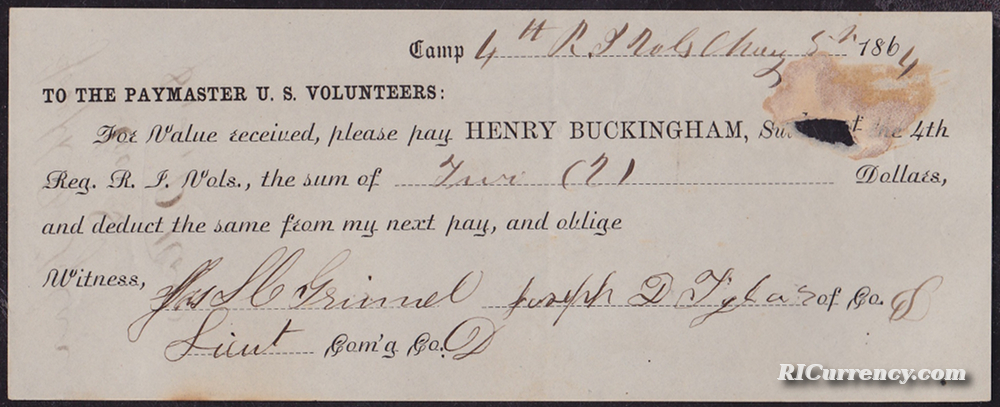 As Brent Hughes notes in "Paper Issues By Civil War Sutlers," a sutler was a "civilian merchant who held an exclusive contract to sell items that soldiers needed or wanted that were not furnished by the government." For the 4th Regiment, Rhode Island Volunteers, that man was Henry Buckingham.
"Henry Buckingham, who was one of six children, was born on February 29, 1828, in Oxford, Connecticut, and acquired his education in the public schools there. He was a youth of seventeen when he came to New Haven, where for several years he was employed by D.W. Buckingham and later Jeremiah Atwater. He afterward engaged in the retail butchering business in Derby, Connecticut, but soon returned to New Haven where he established a grocery store. At the time of the Civil war he went to the south as sutler with a Rhode Island regiment and after the close of hostilities turned his attention to the real estate business in New Haven, where he resided for more than forty years, and spent the last six years in retirement from active business. He married Abbie Ogden (Phillips) Curtis, the widow of Reuben Curtis. She was born in Fairfield, Connecticut, July 16, 1830, and died while visiting Boston, January 28, 1901. For several years she had survived Mr. Buckingham, whose death occurred November 7, 1893. They were the parents of four sons." — Everett Gleason Hill , A Modern History of New Haven and Eastern New Haven County, Volume 2. New York: The S. J. Clarke Publishing Company, 1918.