Harbor Defenses 1¢ POW Chit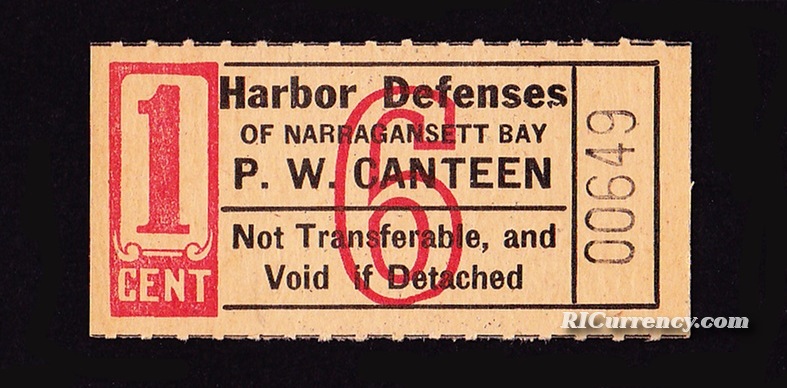 Series 6, valid from February 1, 1946 to March 31, 1946, Sauderstown, Narragansett
This Harbor Defenses of Narragansett Bay canteen chit is a rare remnant of an experiment that took place at the end of World War II on several military installations in southern Rhode Island. As author Larry Smulczenski explains in the newsletter, MPCGram, an "Intellectual Diversion Program" was created, "to train carefully selected German prisoners and some aliens for service as administrators and police in the soon-to-be established U.S. Army Government of Occupation in Germany." Specifically, men who had exhibited anti-Nazi sympathies were chosen for the project. At Fort Getty in Jamestown, the focus was on preparing administrators and at Fort Wetherill, the POWs were trained to be police officers.
Another important facility was at Fort Kearny in the village of Saunderstown, where this one-cent chit is from. This camp was known as "The Factory." It brought together captured "editors, professors, writers and linguists" and their American counterparts, educators from Brown and Harvard and other professionals, according to an article by historian Ronald Bailey in WWII magazine.
Geoff Campbell wrote a detailed story about the project for the Jamestown Press in 2008. In the piece, he discussed the relaxed attitude of the camps and local residents' memories of them. He also notes the prisoners of Fort Kearny published a journal that was distributed to 140 POW camps across the United States. The publication was entitled, Der Ruf: Zeitung der deutschen Kriegsgefangenen in USA ("The Call: Journal of the German Prisoners of War in the United States") and had a print run of between 10,000 and 75,000 copies. After the war, the journal's founding editor went on to launch a literary project in Munich under the title, Der Ruf, which espoused democratic principles similar to those taught at Saunderstown. By its 17th issue, however, Munich's Der Ruf ran afoul of American military censors for its critical stance on the U.S. occupation of Germany and was eventually shut down.
Per the Geneva Convention, German POWs were given a ten-cent daily allowance for their personal needs. The money was not paid out in coins or banknotes, but rather in small certificates like the one shown above. In some camps, prisoners could earn 80 cents a day through a variety of labors, such as road or utility maintenance or working for private employers.
After the war, Fort Kearny was shuttered and the property became part of the University of Rhode Island. Today, the former prisoner of war camp is the site of the URI's Graduate School of Oceanography.