Providence Great-Bridge Lottery Tickets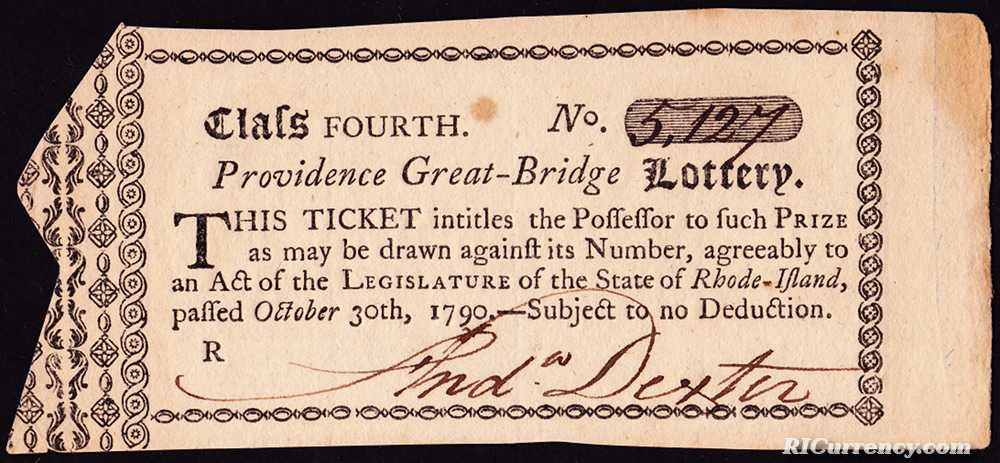 October 30, 1790. Fourth Class Tickets, Signed by Andrew W. Dexter
The Great Bridge Lottery of 1790 was used to raise funds for the reconstruction of a bridge in downtown Providence that went from Westminster/Weybosset Streets to Market Square (see map below). The structure was only 12 feet wide in 1711. In 1744, it had been widened to 18 feet.
This new plan expanded it even further, as one nineteenth-century historian noted:
"In 1792, the Weybosset Bridge was rebuilt and enlarged, a sure evidence of prosperity. It was widened from twenty to fifty-six feet, and the eastern abutment was extended forty feet into the river to allow room for a proposed 'Water Street' to pass over. A draw was placed in it to allow of vessels passing to the wharves to the northward. This draw was the subject of acrimonious discussion between the different sections of the town. The southern and western portions contending that it was not needed, while the northern part, loath to lose their ancient facilities, demanded it. The north end had force enough to secure its claims, and the bridge was built with a clumsy old-fashioned draw, liable at any time to suspend traffic across it." — Welcome Arnold Greene, The Providence Plantations for Two Hundred and Fifty Years: An Historical Review of the Foundation, Rise, and Progress of the City of Providence, Providence, J.A. & R.A. Reid Publishers, 1886.
Another writer described the new structure as quite attractive, "ornamented with handsome balustrades, and furnished with six lamps."
The drawbridge functioned until 1816, when the City of Providence decided to suspend its operations, effectively making the Providence Cove no longer navigable from the sea.
As for the span itself, it kept getting fatter over the years. In the late nineteenth-century, the bridge was essentially a plaza that led to Market Square. By the post-war years, it was re-engineered into a key traffic artery (basically a giant traffic circle) that successfully promoted downtown congestion and driver confusion. In the 1980s, the Guinness Book of World Records deemed the structure, then known as the Crawford Street Bridge, "the widest bridge in the world" at 1147 feet wide. (At this point, several of the bridges downtown had been joined together with a single decking that covered over two acres of the Providence River so whether it truly qualified as a "bridge" is debatable).
On of the key elements of Providence's urban planning in the 1990s was the dismantling of the Crawford Street Bridge, to once again expose the Providence River, as well as its tributaries, the Woonasquatucket and the Moshassuck.