Bill of Exchange for $363.30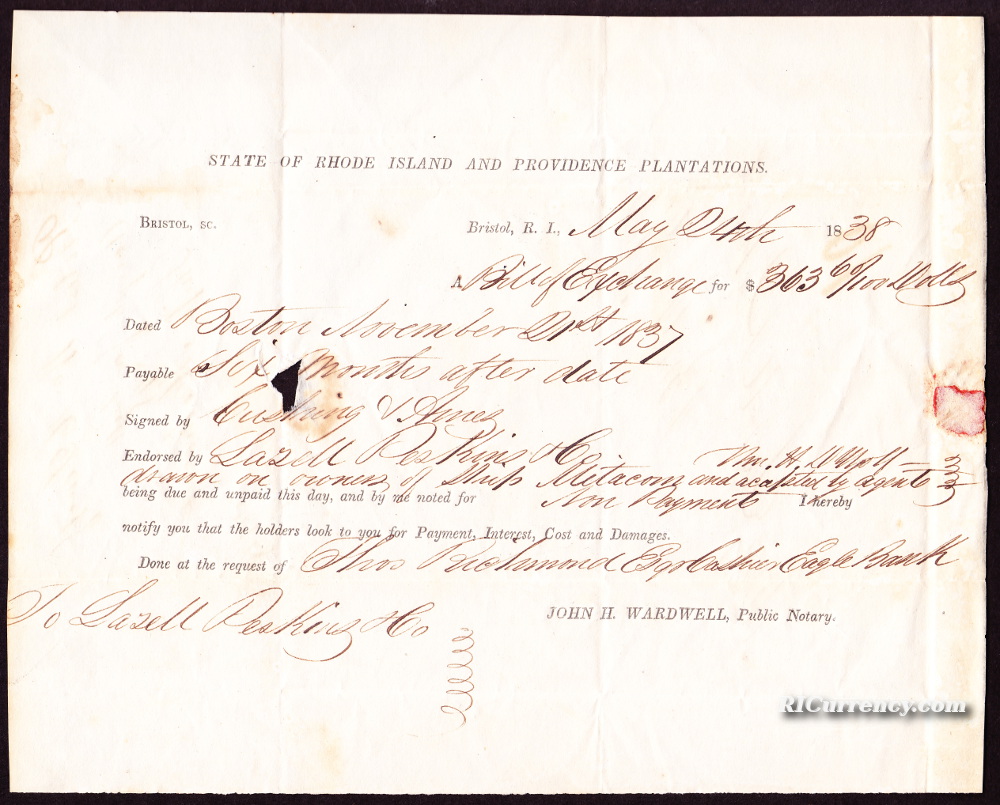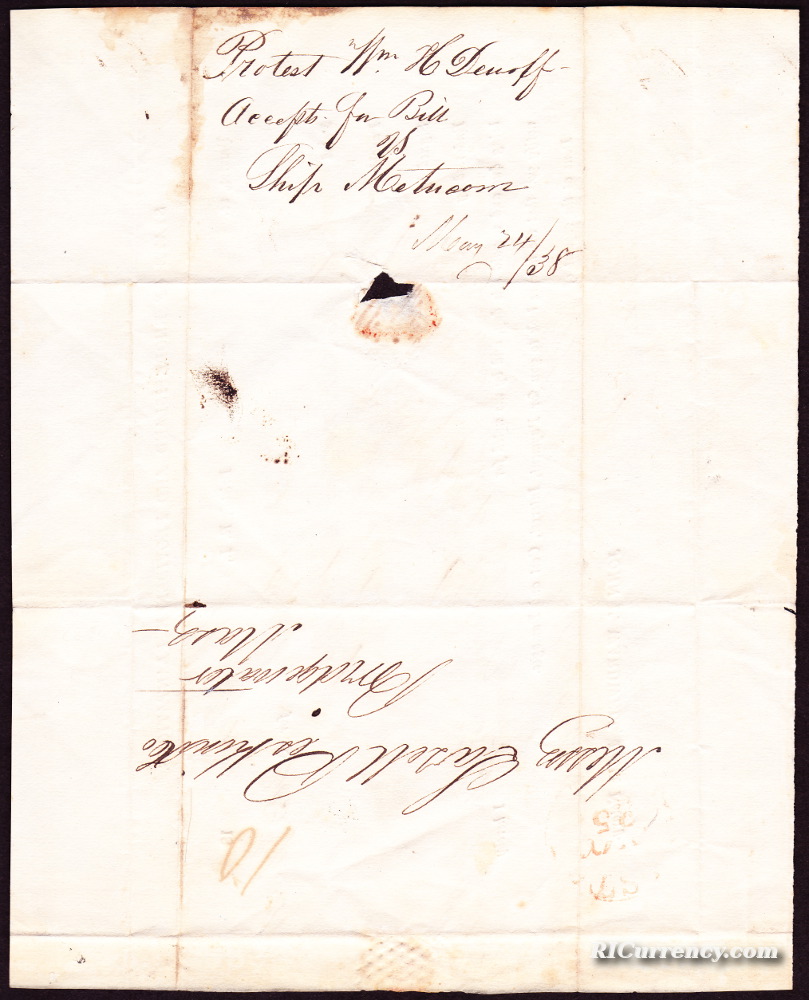 Front:
Bristol, R.I., May 24, 1838
A Bill of Exchange for: $363.60
Dated: Boston November 21, 1837
Payable: Six months after date
Signed by Cushing & Ames [a dry goods merchant located at 128 Hanover Street in Boston]
Endorsed by Lazell Perkins & Co.
drawn on Ship Metacom and accepted by agents, William H. D'Wolf
being due and unpaid this day, and by me noted for: non payment I hearby
notify you that the holders look to you for Payment, Interest, Cost and Damages.
Done at the request of Thomas Richmond, Esq., Cashier of the Eagle Bank
To Lazell Perkins & Co.
John H. Wardwell, Public Notary
Back:
Protest William H. D'Wolf
Accepts for bill
Of Ship Metacom
May 24, 1838
Messr. Lazell Perkins & Co.
Bridgewater, Massachusetts
[Lazell Perkins was once one of the largest iron works in the United States and later became Bridgewater Iron Works.]
The ship was owned by William Henry D'Wolf, son of notorious slave trader James D'Wolf.
Regarding the whale ship Metacom, a WorldCat entry on its logbook is described in this way:
"Log, kept by B.T. Wyatt, relating to a whaling voyage to the Atlantic and Pacific oceans. Includes descriptions of whales seen or taken (blackfish, finback, humpback, killer, right, and sperm), accidents and death at sea; punishment on ship, and eclipse; and drawings of islands and poems. Places represented include Maui and Talcahuano.
"The repository also has microfilm of the collection (PMB 281). Whaling vessel; out of Bristol, R.I., mastered by Joshua Grinnell on voyage from 21 Dec. 1837-28 May 1841 to the Coast of Brazil, Falklands, Juan Fernandes, Galapagos, Coast of Chile, California Coast, and On the Line whaling grounds; owner-agent: William H. DeWolf; built at Bristol, R.I., 1836."