Fall River Union Bank
As noted in 1877:
"Reckoning by years, 'The National Union Bank' is the oldest bank in the city, having been chartered as 'The Bristol Union Bank,' of Bristol, R.I., in 1823. Its authorized capital was $50,000, with the privilege of increasing the same to $200.000. The shares were placed at $100 each. It began business in January, 1824, with a paid-in capital of $10,000, which was increased within the next two years to $40,000. The bank has undergone many changes in its various departments during the half century of its existence, as indicated by the following table: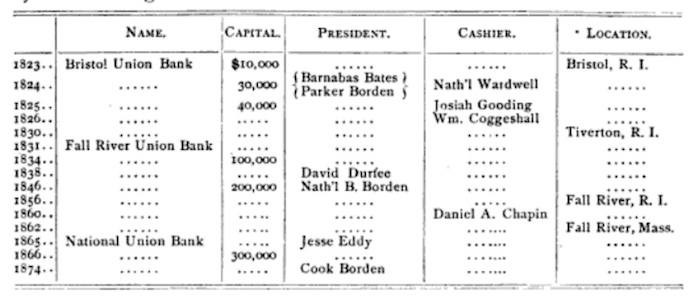 "In 1830, Fall River, Mass., affording a more promising field for banking operations, the bank was removed from Bristol and located in Tiverton, just over the line from Fall River, and its name changed to the Fall River Union Bank. Its office was on South Main Street, opposite the head of Columbia Street. In 1837 the bank erected for its accommodations the brick building corner of South Main and Rodman streets, and removed its office to the lower floor, where it continued its business until 1862. In that year, by the change of boundary line, Fall River, Rhode Island, became Fall River, Massachusetts, and the bank was removed to the office in the south-west corner of the market building, now City Hall.
"In June, 1865, the bank became a national banking association, under the name of 'The National Union Bank,' No. 1288. In 1872 the office of the bank was removed to No. 3 Main Street, opposite the Granite Block, where it has a well-lighted and easily-accessible banking room for the transaction of its business." — Henry Hilliard Earl, A Centennial History of Fall River, Mass. New York: Atlantic Publishing and Engraving Company, 1877.
In June of 1903, the Fall River Union Bank joined with the Pocasset National Bank (formerly of Fall River, Rhode Island) and the Massasoit National Bank to form the Massasoit-Pocasset National Bank. This organization was absorbed by the B.M.C. Durfee Trust Company in 1928, which itself eventually became part of Bank of Boston.
According to the National Bank Note Census, the Union National Bank issued $1,625,990 in national currency during its 38 years of existence. In 1910, only $12,262 was reported outstanding. Today, there are but three banknotes known from this institution in collectors' hands.